At a time when religions are accused of neglecting the spiritual and blamed for being at the root of numerous conflicts, we are called to respond together to an urgent question : religious identities - for better or for worse ?
Over the centuries, fragile bridges have been built between different religious traditions in the world. In recent decades, a more systematic dialogue has developed, showing a genuine interest in the rich diversity of those religions.
Now, however, at the start of the 21st century, not least because of the political, economic, social and cultural changes affecting the world, many voices are speaking out against religions and their excesses. This makes it all the more important for us to make progress towards a better mutual understanding of our respective spiritual and religious approaches.
For over thirty years now, the World Council of Churches has been involved in the field of interfaith dialogue, instigating and pursuing reflection and projects that are relevant to Christians and their neighbours of other traditions. On the other hand, since 1992 the Geneva Interreligious Platform has been providing an informal meeting space for the many traditions and confessions that live side by side in the Geneva area.
Since both are active in Geneva and have a mission to foster dialogue and understanding among different faiths, the World Council of Churches and the Geneva Interreligious Platform are combining forces to organize a major three-day interfaith event (12-14 November 2005), on the theme : My neighbour's faith and mine. religious identity - for better or for worse?
The programme will include :
Each of these events will offer a particular way of sharing the experience of living together in a plural society. An inter-faith text on the challenges of religious pluralism, including a declaration of intention, will be distributed to participants before the event.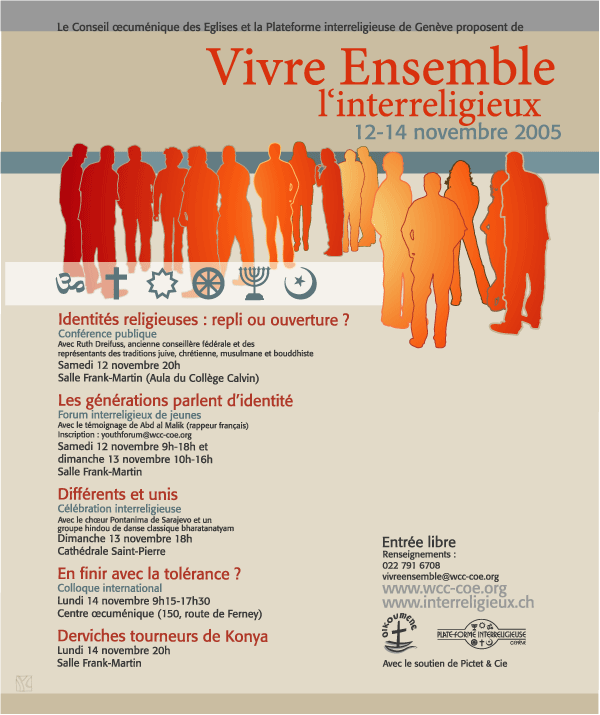 AN ENCOUNTER IN KEEPING WITH THE "ESPRIT DE GENEVE"
True to the spirit of Geneva, and confident that the path of peaceful coexistence, concertation and goodwill can lead to progress, various personalities in the field of inter-faith dialogue and young people from all over Europe will reflect on the religious and spiritual dimension of our lives in contemporary society, in discussion with representatives of the confessional communities, the population of Geneva and the city's international community.