EDITORIAL
Dear friends,
This issue of Current Dialogue is mainly devoted to the theme of religion and violence. September 11 and the present state of the Israeli-Palestinian conflict have made us aware of the insidious interrelationship of religion and violence. Although the world's religions aspire to peace, it is a fact that in many instances religious persons, resources, and organisations are implicated in conflict and violence. Religious people, communities and organisations need to reflect on and confront the ambiguous relationship of religion and violence. Should it not be the role of religion is to unmask the logic and dynamic of violence and its dehumanising and destructive influences? Should not religious communities and their leaders with emphasis refuse to provide moral or ethical support for the use of violence in response to conflict, or in the pursuit of political, economic, cultural, or yet least, religious ends?
Inside this issue of Current Dialogue ...



Thinking together II
Religion and Violence: An analytical synthesis - Tikva Frymer-Kensky

Press Release: Ecumenical Institute Bossey: Religions address crisis of violence, and peace


Travel Report on the African Christian-Jewish consultation in Yaoundé, 8-13 November 2001


Message of the Christian-Jewish Consultation

Christian-Muslim Meetings
"Dialogue and Coexistence" - An Arab Muslim-Christian Covenant - Cairo, December 2001

Aide Memoire - Reflection on International and Global Multifaith Initiatives


Report from a multi-faith consultation on International and Global Multifaith Initiatives
We have in the WCC been pursuing this subject, first in the context of the Decade to Overcome Violence, launched by the WCC in 2001:
www.overcomingviolence.org

This issue of Current Dialogue bears witness to two related ways of addressing the complex reality of religion and violence:
a multifaith consultation in February 2002 with Buddhist, Christian, Hindu, Muslim and Jewish contributions

a press release from a multifaith consultation, the Visser't Hooft Memorial Consultation held at the Ecumenical Institute Bossey in June 2002 entitled "Violence and Peace - An interfaith exploration into the heart of religions"

The work on Jewish-Christian and Christian-Muslim relations is reflected in a report from an African Christian-Jewish consultation and a report on some recent meetings of Christians and Muslims.

There is a growing interest today in multifaith approaches to issues of common concern. This interest is paralleled with a proliferation of different international interreligious initiatives, gaining a measure of appeal. There is a demand that there be adequate responses from faith communities to these initiatives. The WCC constituency has expressed the need for a reflection on the different multifaith initiatives, towards developing mechanisms for WCC participation and as an invitation to other faiths in their processes to determine their own engagement, thus increasing the multifaith co-operation globally. This issue of Current Dialogue brings you some staff reflections and the message from a multifaith consultation on the topic of international multifaith initiatives. The consultation was held in Hong Kong in April 2002.

The Advisory Group on Interreligious Relations and Dialogue has worked on a new version of the "Guidelines for Dialogue" revising substantially the WCC 1979 "Guidelines on Dialogue with People of Living Faiths and Ideologies", see the net:
http://www.wcc-coe.org/wcc/what/interreligious/glines-e.html

This revision has been called for by the WCC governing board and has been prompted by the developments in interreligious relations in the last twenty-three years. The text will now be submitted to the Program Committee for action. Since many churches and Christian groups have expressed the need for such a document coming from the WCC, it is hoped that it will be soon received, forwarded to the churches for study and action, and circulated widely. We will of course publish the text on the net and as a hard copy document once it is has received the official authorisation.

Last but not least, a correction in relation to the memorial issue on Dr. Stanley Samartha (Current Dialogue no. 38). Through an oversight, the bibliography of Stanley Samartha lacks one of his most important books, "One Christ, many Religions: toward a revised Christology" (Maryknoll, N.Y.: Orbis Books, 1991) .

Hans Ucko
Editor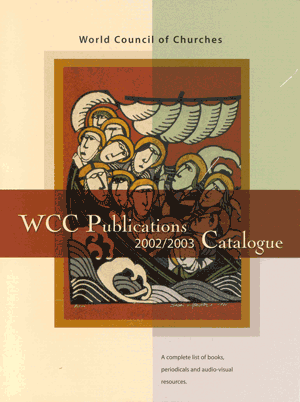 WCC Publications
2002-2003 Full Catalogue
If you would like to receive a copy, please write to:
WCC Publications, P.O. Box 2100, 1211 Geneva 2, Switzerland
Fax: +41.22.798.13.46
E-mail: WCC Contact
Back to Current Dialogue index